Helen Allingham
watercolor showing elite peonies and modern delphiniums in an idealised cottage garden, 1909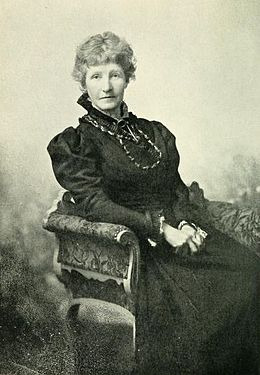 Helen Mary Elizabeth Paterson est née à SWADLINCOTE, en ANGLETERRE 1846 morte en 1926

Son père était médecin et elle était aînée d'une fratrie de sept enfants.
En 1862, à l'âge de 13 ans, elle fit face à une tragédie lorsque son père et l'une de ses sœur de 3 ans, Isabelle, moururent de la DIPHTERIE , à la suite de quoi le reste de la famille alla s'installer à BIRMINGHAM où des tantes d'Helen leur vint en aide. (non je ne parle pas japoinnais mais je connais la ville de BIRMINGHAM )

Dès son plus jeune âge, Helen Allingham a présenté des dispositions et du talent pour l'art, tirant une partie de son inspiration de sa grand-mère maternelle, Sarah Smith Herford, et de sa tante Laura Herford, qui étaient toutes deux des artistes accomplies à leur époque.
Elle a tout d'abord étudié l'art pendant trois ans à l'école de dessin de Birmingham (fondée en 1843).
À partir de 1867, elle a suivi des cours à "l'école d'art féminine" (Female School of Art), une section de ce qui devint plus tard le ROYAL COLLEGE OF ART DE LONDRES
ET LUI AUSSI JE LE CONNAIS bien : je me souviens fort bien etre restée là quelques 15/20 minutes dans la voiture sur un parking devant le college de réputation mondiale et j'a ivu sortir les élèves de tous ages : wouahhhhh j'ai été très saisie de voir une diversité de style de genre de couleurs de forme de tout que nulle part ailleurs personne ne peut voir (ok à NY sans doute ) , une faune exceptionnelle de jeunes et moins jeunes bref c'est de là que sortent tous les gens connus au monde chanteurs acteurs réalisateurs anglais
HELEN Allingham travaillait comme ILLUSTRATRICE , avant finalement de décider d'abandonner ses études en faveur d'une carrière à temps plein dans l'art.
Elle illustrait des livres pour les enfants et les adultes, notamment une commande prestigieuse pour illustrer le livre de THOMAS HARDY "Loin de la foule déchaînée" (Far from the Madding Crowd).
Le 22 août 1874, elle s'est mariée avec un poète irlandais et un éditeur , qui avait presque deux fois son âge.
Après son mariage, elle a abandonné l'illustration pour se consacrer à l'AQUARELLE
En 1881, Elle commença à peindre la campagne autour d'elle et en particulier les fermes pittoresques et les chaumières du Surrey et du sussex , peintures qui la rendirent célèbre.
Elle a également peint des scènes rurales à l'étranger, notamment : EN ITALIE dont à venise . Outre les paysages, elle a aussi réalisé plusieurs portraits, dont celui de THOMAS CARLYLE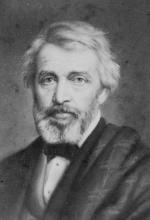 est un écrivain, satiriste et historien britannique, dont le travail eut une très forte influence durant l'époque victorienne.
Elle est la première femme à avoir été admise comme membre à plein temps de la ROYAL WATERCOLOUR SOCIETY . https://www.royalwatercoloursociety.co.uk/ En 2000, une fondation a été créée en son honneur, la "Helen Allingham Society"
JE VOUS SUGG2RE D4ALLER LIRE CET ARTIOCLE
https://eclecticlight.co/2016/11/23/into-the-light-helen-allinghams-eternal-countryside/
Pourquoi j'ai choisi cette peintre ???? pour rien CAR je suis encore tombée dessus par hasard / je recherchais un modele de chambre archi cosy dans les tons clairs mais de style anglais et c'est une de ses peintures qui m'est apparu
si je trouvais ceci en brocante
je hurlerais de joie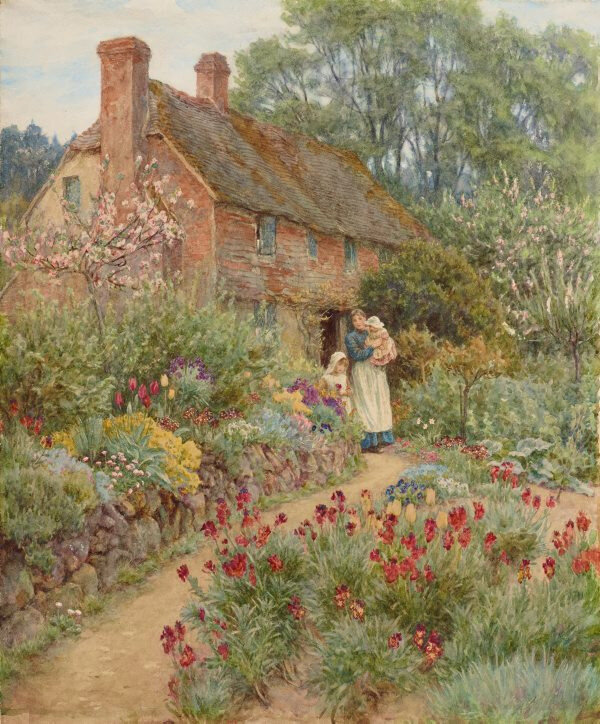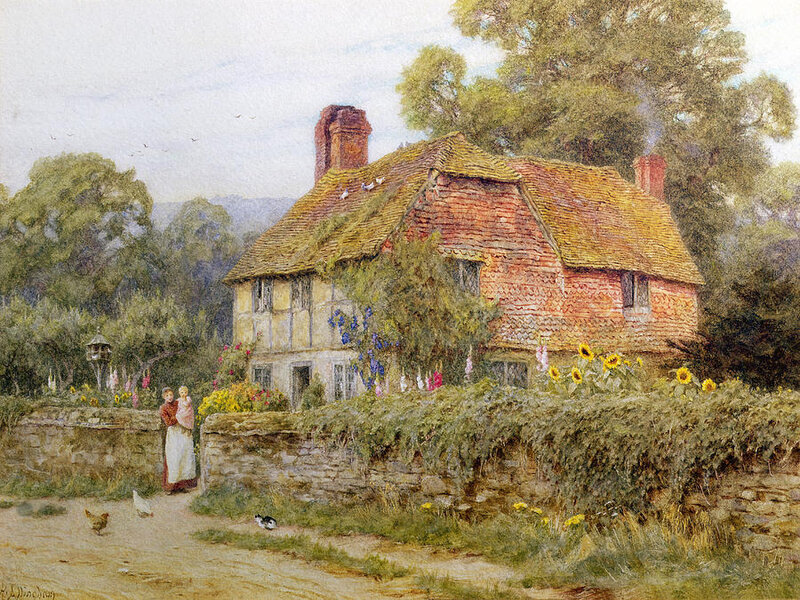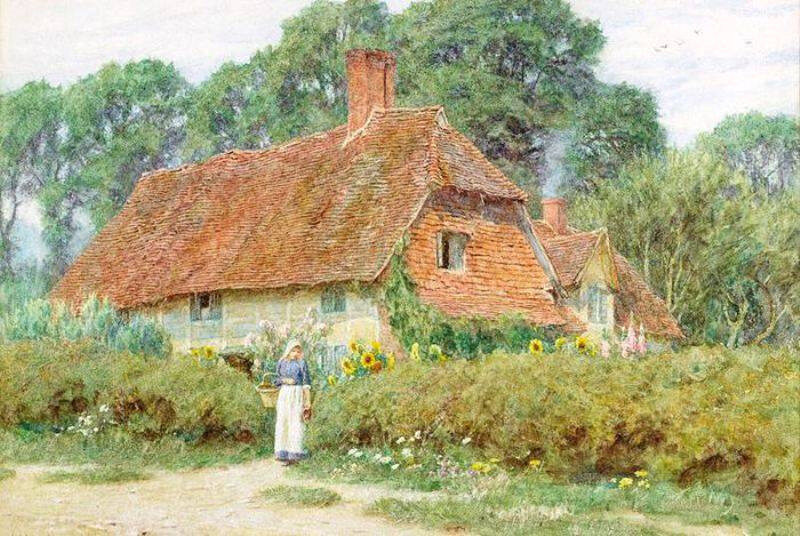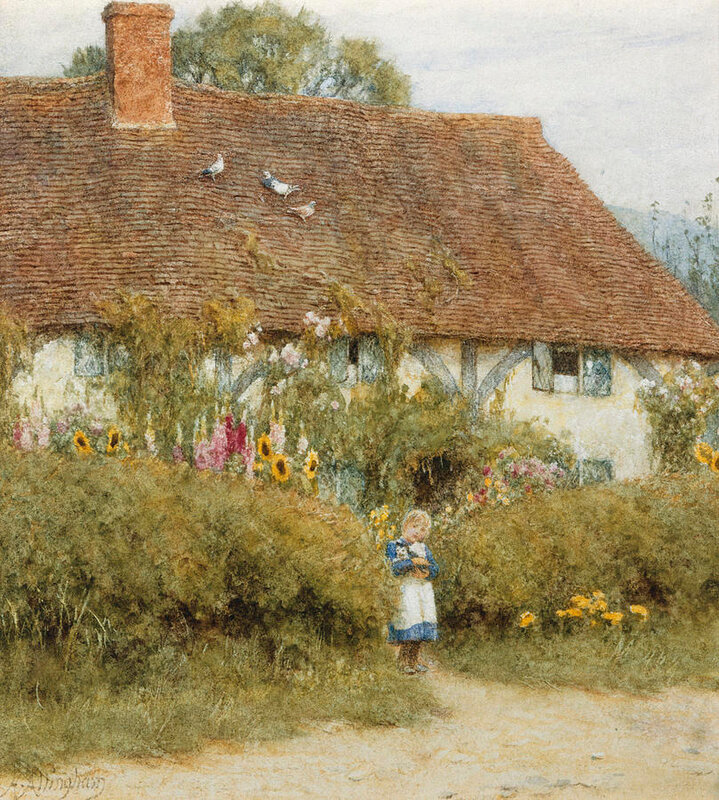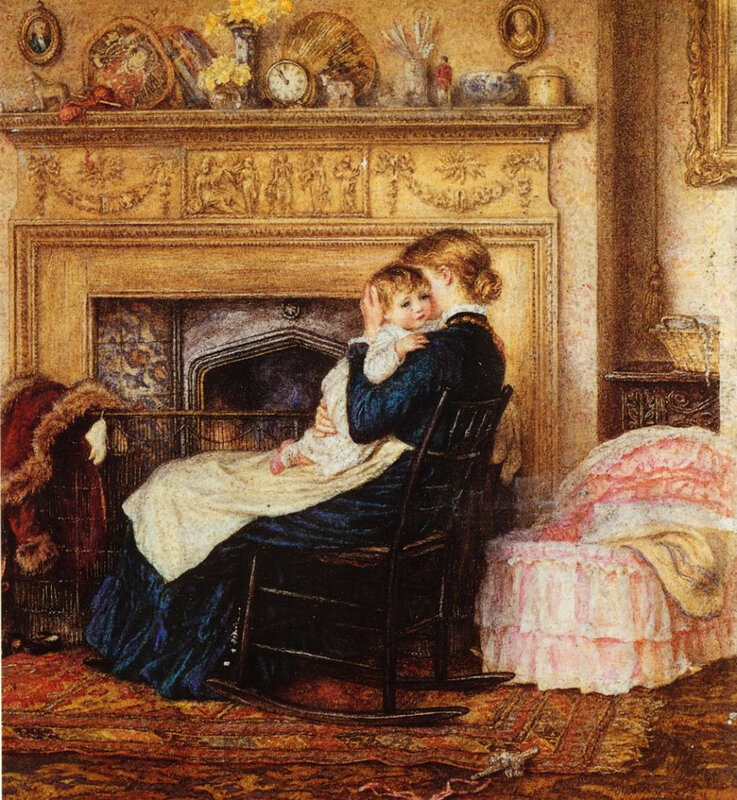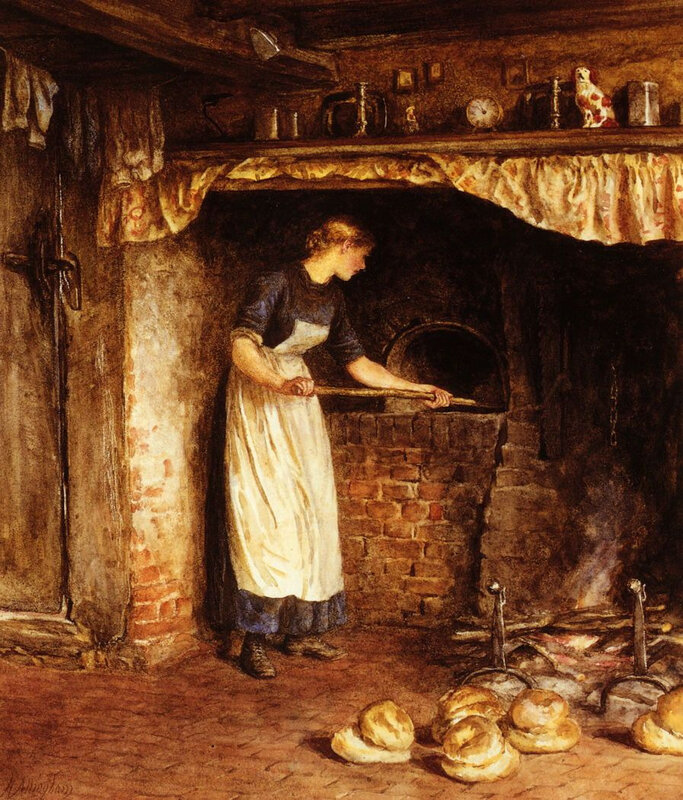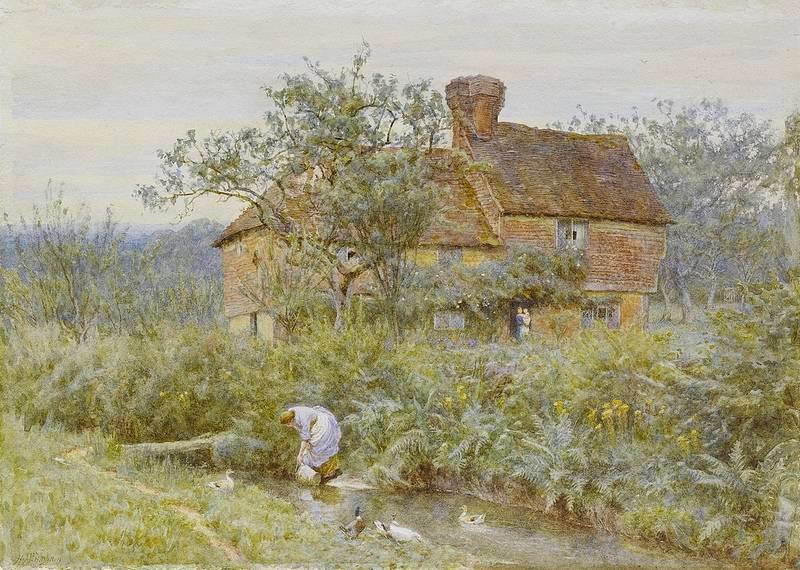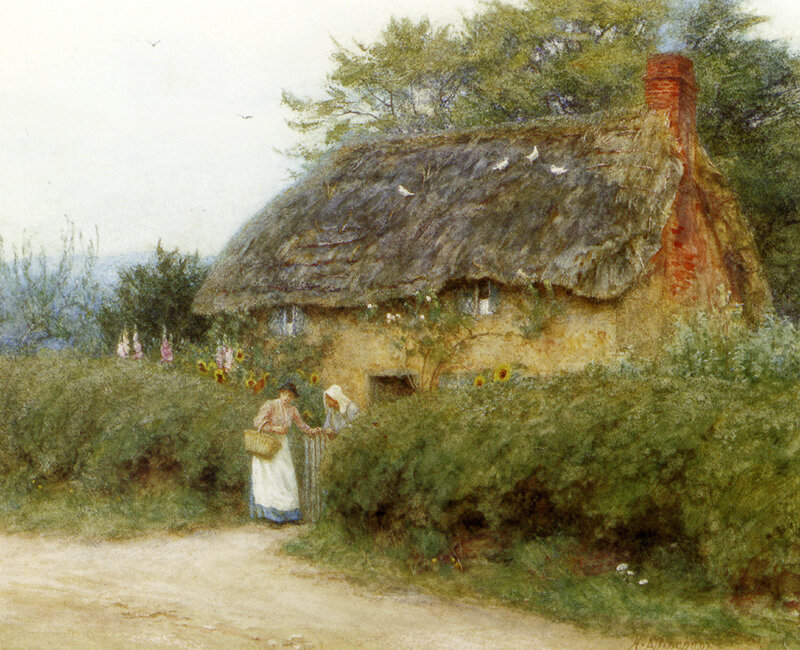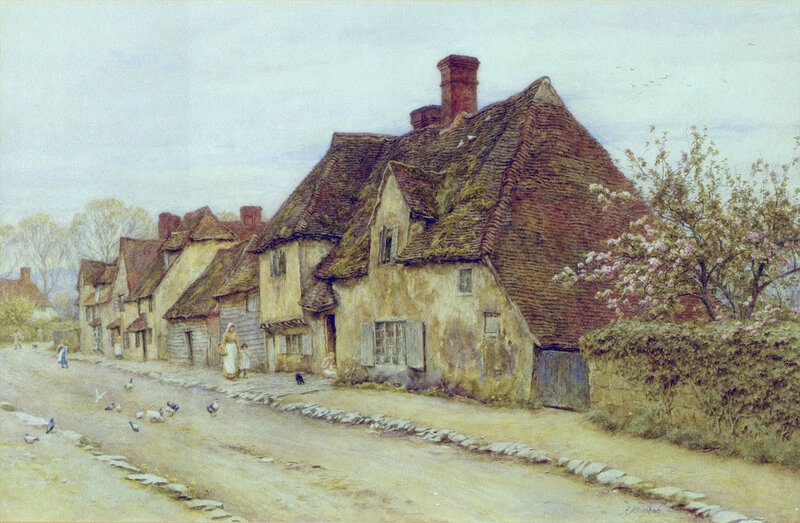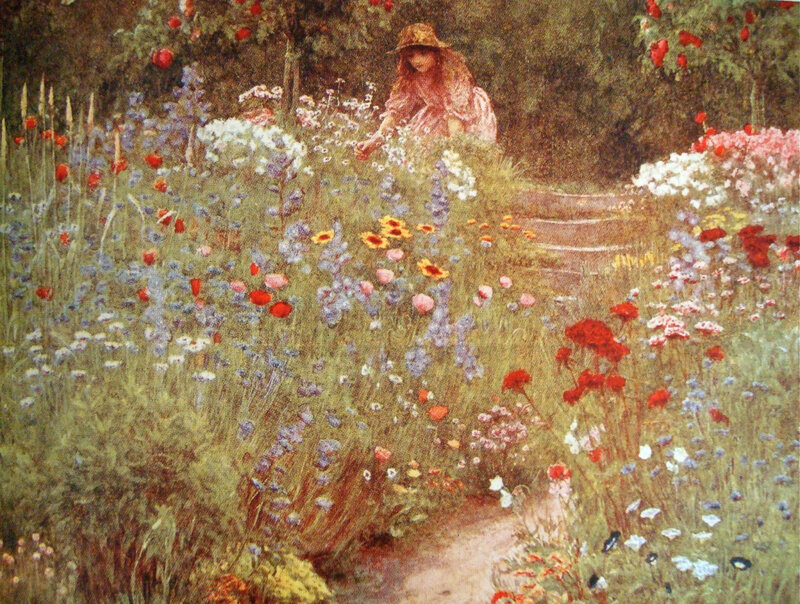 l'époque ou les enfants gardaient encore leurs parents à la maison
ma grand mère paternelle est allée en maison de retraite en 1975 à VILLERS DEVANT ORVAL
elle était une des premières : c'était l'horreur elle est retournée vivre chez ma tante quelques mois et elle est morte on l'avait déracinée de sa maison et de son jardin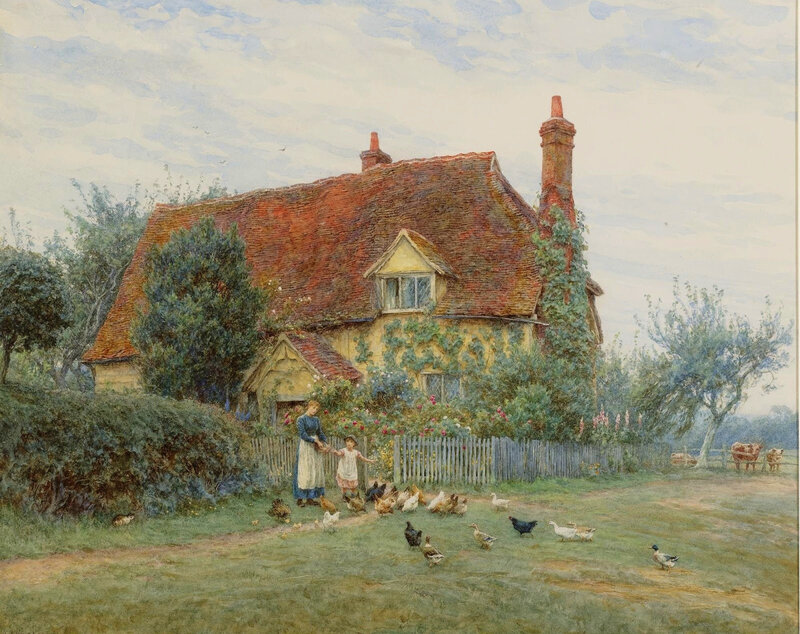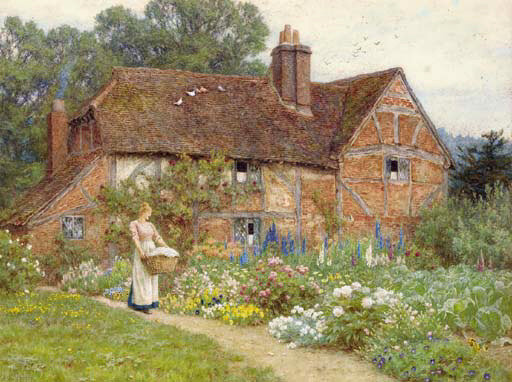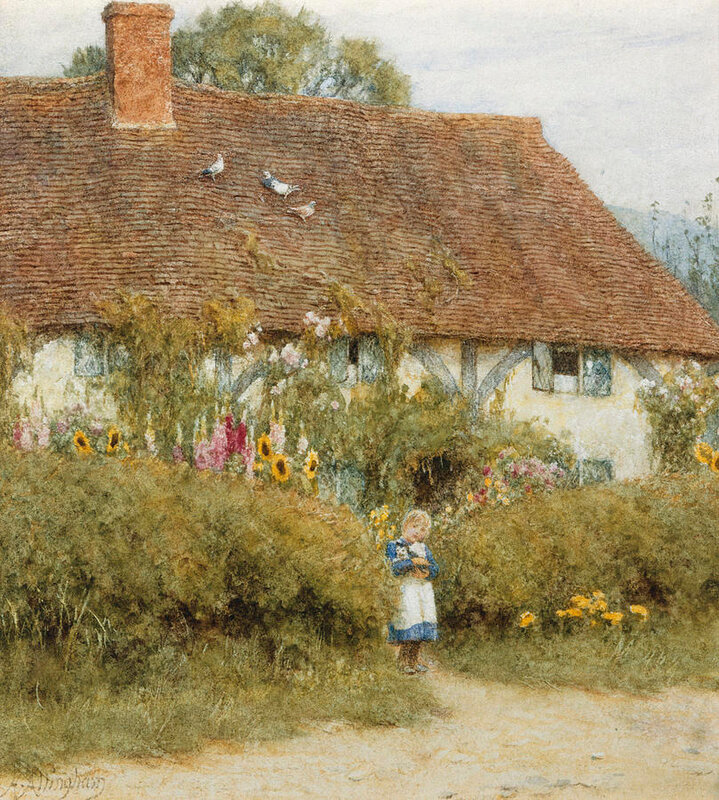 ce sont des scènes de vie c'est trop beau

ET VOUS SAVEZ QUE J'aime puis que j'ai rédigé un POST sur les ancienne carte de Noël que j'avais quand j'étais petite et à part la neige ça y ressemble c'est très anglais c'est très suédois aussi
oui je le sais que c'est une peinture "dépassée" que plus personne n'accrocherait chez elle
quel dommage
pour moi c'est ce qui se fait de mieux parce que je sais m'y projeter réellement
pour moi c'est la sérénité la famille la douceur de vie la vérité vraie
je sais que ça ne plaira qu'à une minorité mais moi si j'en possédais un j'en serais ravie et il serait vachement bien placé