19 juin 2017
Et ça c'est mon truc
♥ ♥ ♥ ♥
♥ ♥ ♥
♥ ♥
♥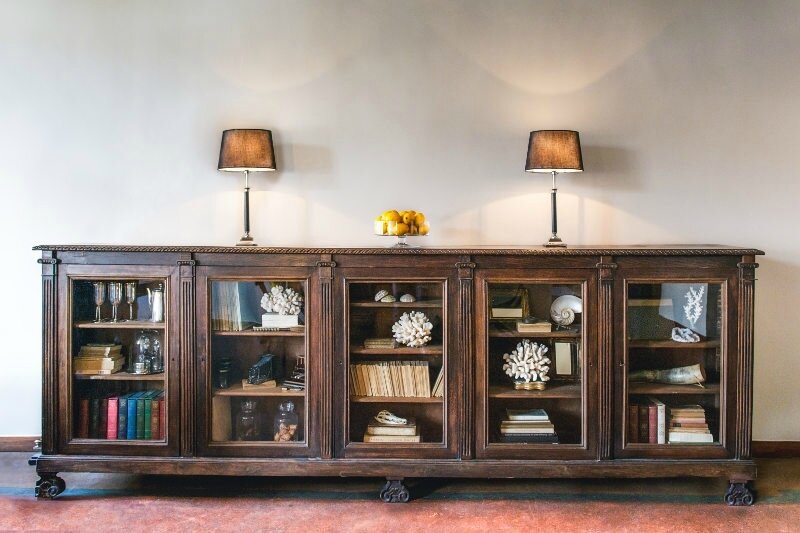 si je trouvais ce meuble là
j'achete et je hurlerais de joie
Parce que je trouve que ce genre de meuble permet pas mal de mises en scène mais surtout il agrandira la pièce ou il sera posé
déjà là comme ça c'est super beau !
on peut ajouter
soit un seul grand tableau ,
soit une multiplicité de cadres ,
soit des toiles encadrées ou pas ,
soit plein d'autres possibilités il suffira de regarder sur le blog
on peut aussi ranger dans les armoires vitrées : sur chaque étagère une mise en scène particulière . . .
ce serait
soit des livres avec des petits cadres ,
soit un cabinet de curiosité ,
soit de l'argenterie ,
soit des objets de coutures anciens ,
soit ???? . . . UN VRAI PLAISIR de toutes façons . . . moi je le décape immédiatement et je le laisse tel quel et si je vois que le bois n'est pas aussi beau que JE LE PENSAIS / FACILE Cécile : je le peins . . . chez moi ce serait vert foncé ou noir . . . mais ça pourrait être bordeaux , marine, blanc mais là ce serait en dernier recours
Pour celles chez qui tout est blanc là je suis d'accord ça donnera bien en naturel
Linda Felcey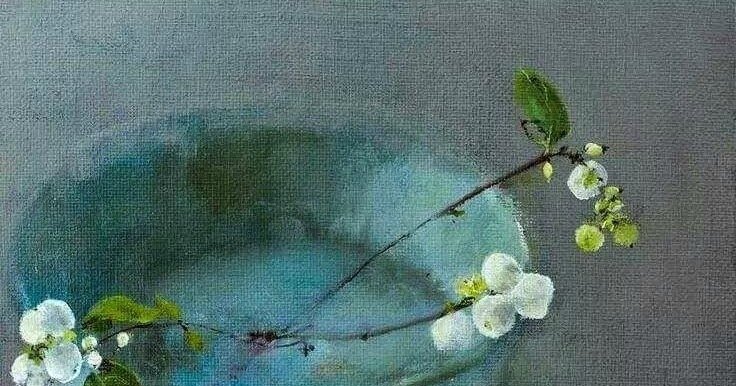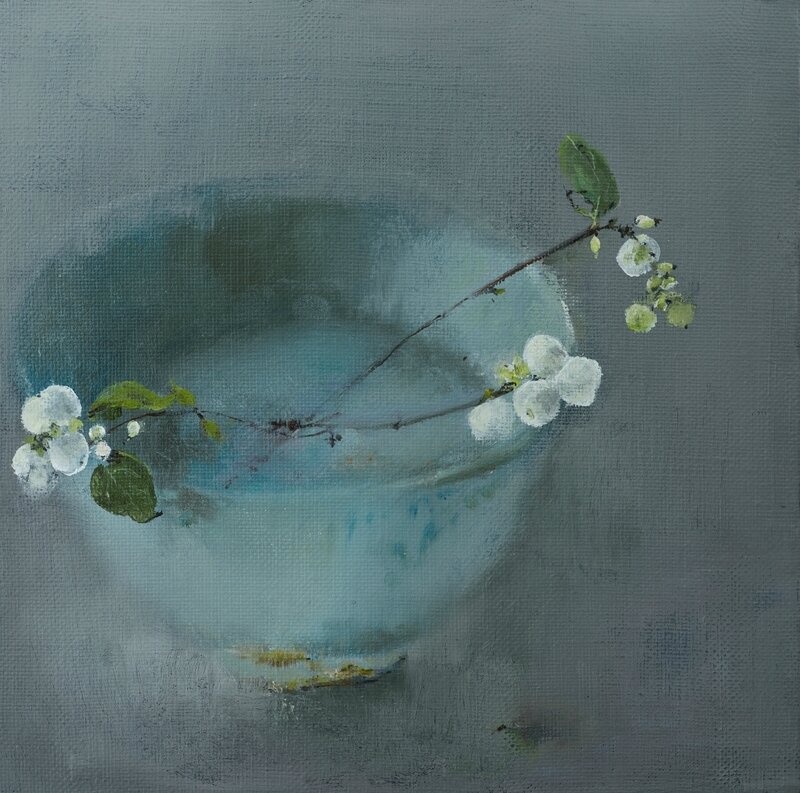 c'est toujours en cherchant quelque chose qu'on trouve quelqu'autre chose . . .
c'est d'un raffiné
ça convient parfaitement dans un intérieur minimaliste
nous sommes l'avant - veille
de l'été 2017
et on le voit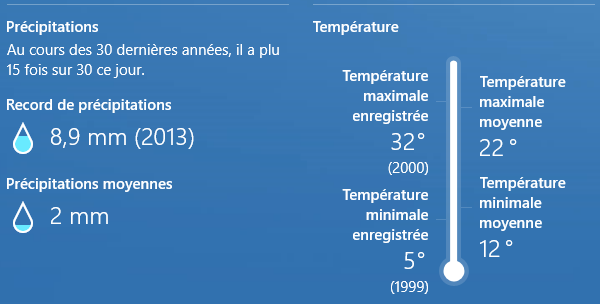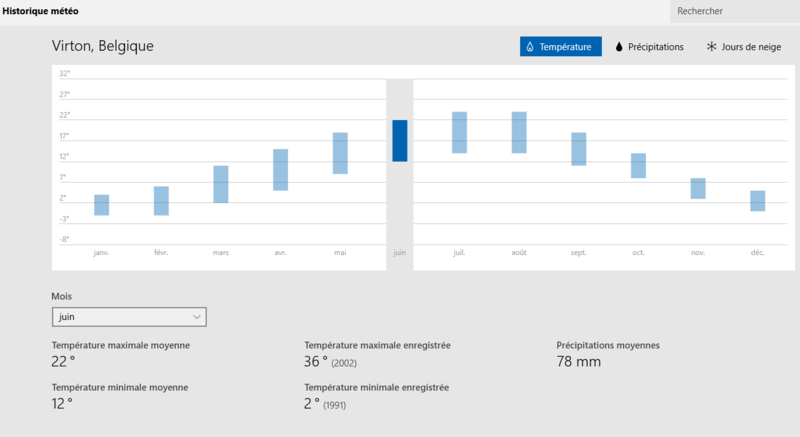 à l'ombre sur ma terrasse j'ai exactement à
12h30 . . . 28°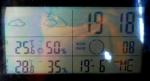 19h18 - 28, 8° la sensation de lourdeur est arrivée seulement après 16h
voilà longtemps que je n'étais allée sur un de mes blogs préférés : un HOLLANDAIS WOOD AND WOOL STOOL (bois laine chaise)

Elle fait des photos d'enfer elle se met en scène et elle est magnifique plus elle vieilli plus elle est belle je connais tout ce qu'elle fait depuis 2009 et vous aussi
allez voir dans la catégorie : LES TRAVAUX D' AIGUILLES ET DE CROCHET . .. .
je pense à ça parce que j'avais envie de chercher à partir de la semaine dernière des grosses bobines de fine corde (si c'est possible mais c'est cher) pour faire un grand couvre lit . .. en corde
c'est ainsi que j'ai pensé à WOOD AND WOOL STOOL parcequ'il me semble qu'elle travaille avec ça mais elle est souvent en voyage - MOI PAS - au Maroc entre autre ou elle fait des photos à se pâmer
tout ce qu'elle est fait est LE MUST DU MUST
c'est aussi simple que ça
je voudrais sincérement 10% de son talent
(photo mode crochet trico deco audace silhouette sesassociations des couleurs : tout tout tout )


voilà , vous souvenez- vous ? (voir deochollandaise : créatrice )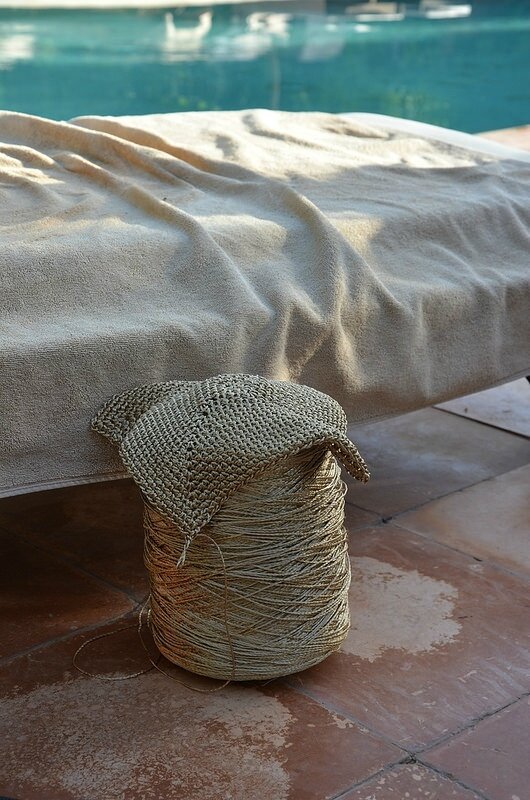 ce n'est pas tout à fait ça que j'ai vu sur un blog américain mais là c'est encore mieux
m'enfin c'est fou
car c'est exactement ce que je cherche
c'est informe c'est vite fait et ça lui va à merveille . . . elle reste classe
au Maroc
les couleurs les couleurs les couleurs : que ça doit être existant de visiter Marrakech
la première photo le bleu majorelle et l'ombre d'un arbre c'est MERVEILLEUX
si je traduis plus ou moins il semblerait qu'elle possède une maison au Maroc . . . regardez- moi ses photos ses couleurs les couleurs du pays
je dois dire que depuis quelques années , depuis que j'ai internet , je sais qu'il y a un artisanat de dingue là-bas . . . des couleurs de fous Je l'ignorais : j'imaginais que tout ce qu'on faisait TENAIT DU FOLKLORE ALORS QUE DE NOMBREUX designers de chez nous et de tous les autres pays d'europe vont la- bas faire faire : leurs porteries leurs carrelages leurs tissus
j'aurais aimé y aller : mais la peur de l'avion m'en empêchera le reste de mon existence et portant une de mes cousines y est architecte designer : voir sur le sur le blog : un hôtel qu'elle a crée
non mais je vous donne ma parole que je n'avais plus regardé son blog depuis ????? 1 an peut être ? et j'ai fait exactement pareil chez moi sur la console de ma cuisine : c'est drôle tout de même (je parle des livres à la couverture verte )
magnifique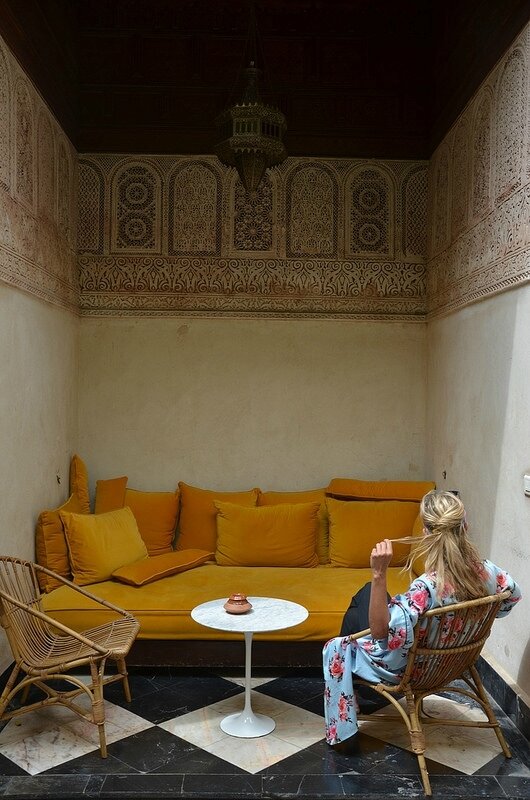 ce velours ocre je prends !!!!!!!!!!!!!!!!!!!!!!!!!!!!!
qu'est ce que ced doit être beau au maroc ! ! ! wouahhhhhh
elle sait tout porter et tout ce qu'elle porte c'est mon truc !
magnifique cette décoration marocaine : après l'anglaise , la belge (parce que ma région géographique est plus adaptée) c'est la marocaine qui a ma préférence
quand elle vient à PARIS
JE PENSE QU'ON A SENSIBLEMENT LE même regard sur les choses - si je peux me permettre - mais je ne parviens pas à les prendre aussi bien qu'elle . .. vu qu'elle est sur la plupart des photos ce n'est peut - être pas elle qui les prend . . . je ne sais pas : ce n'est pas noté sur son profil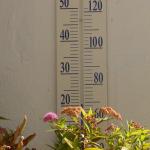 à l'ombre à 8h
maintenant Il est 8h et en plein soleil sur la terrasse j'ai 43,9° encore jamais vu cette année . .. .
dans la maison il fait 24° fenêtres ouvertes avec courants d'air . . . impossible de petit -déjeuner même avec le parasol
maintenant il est 8h45 et en plein soleil il fait 45,7 °
maintenant il est 10h20 et en plein soleil il fait 52,2° sur la terrasse
une très belle et originale
visite française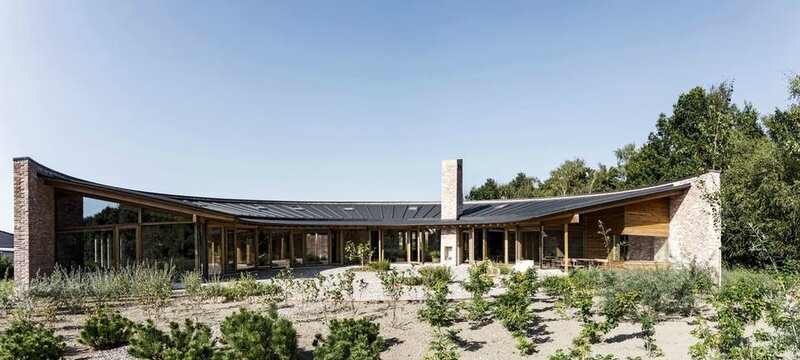 évidemment c'est une maison d'architecte et là j'ai un doute mais je pnse que c'est en france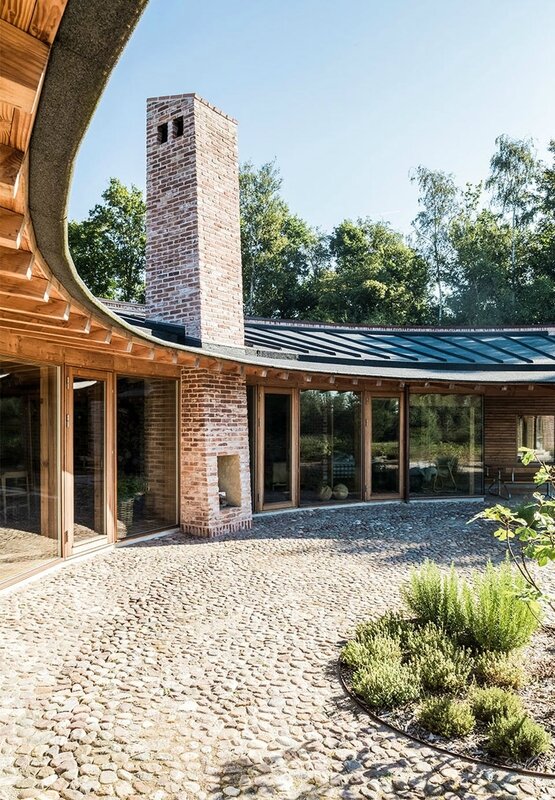 c'est splendide c'est minimal et cette " avancée" protége jour et nuit hiver comme été : je prends !
au fond c'est une douche
ils ontchoisi le bois BLOND et le choix est judicieux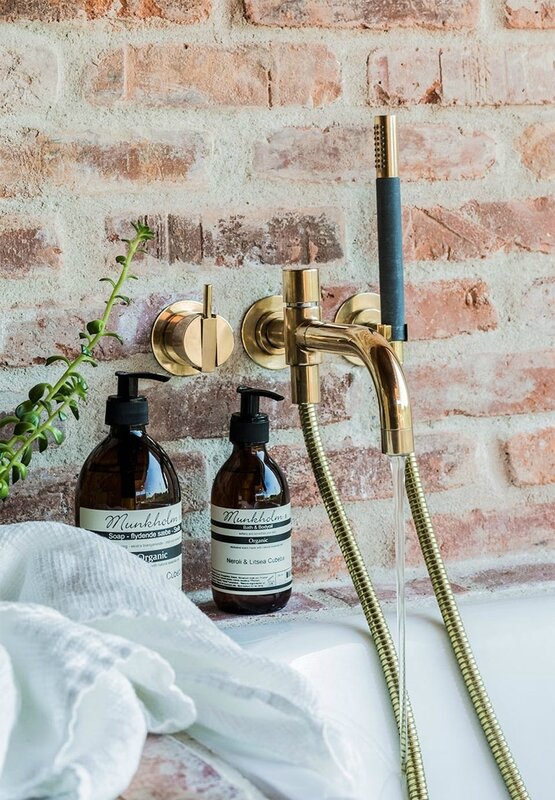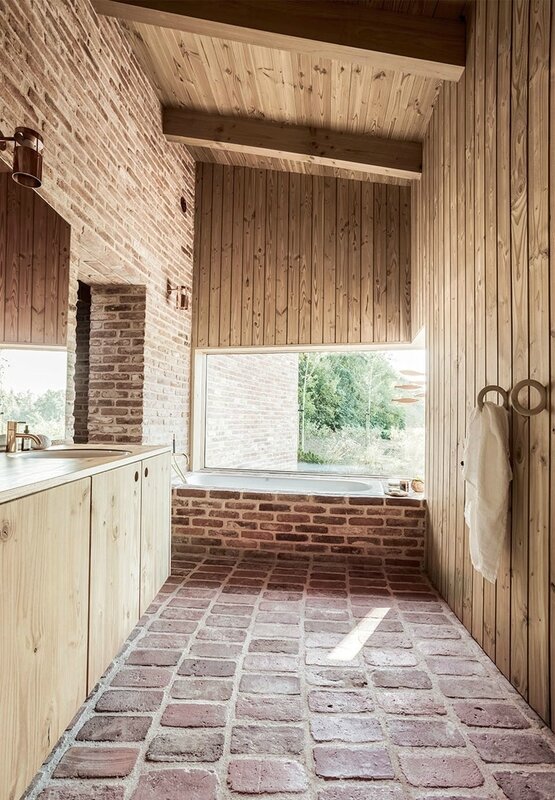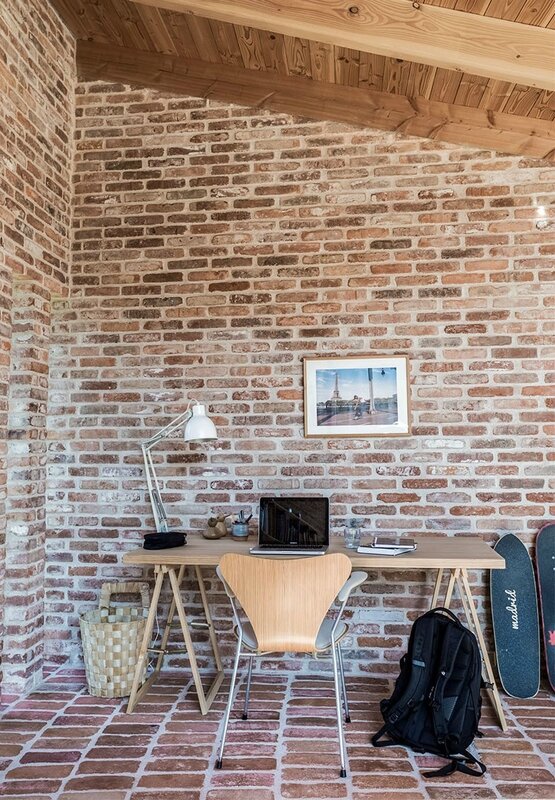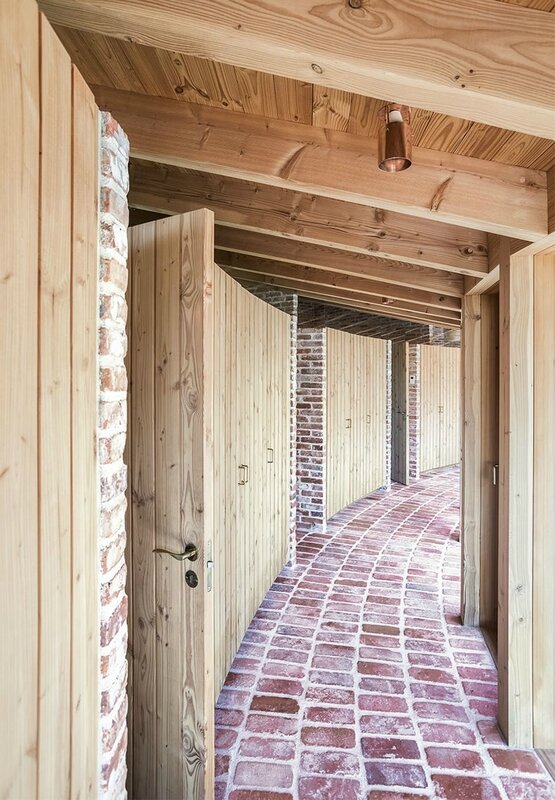 là c'est un peu dommage ça fait un peu trop cabine de piscine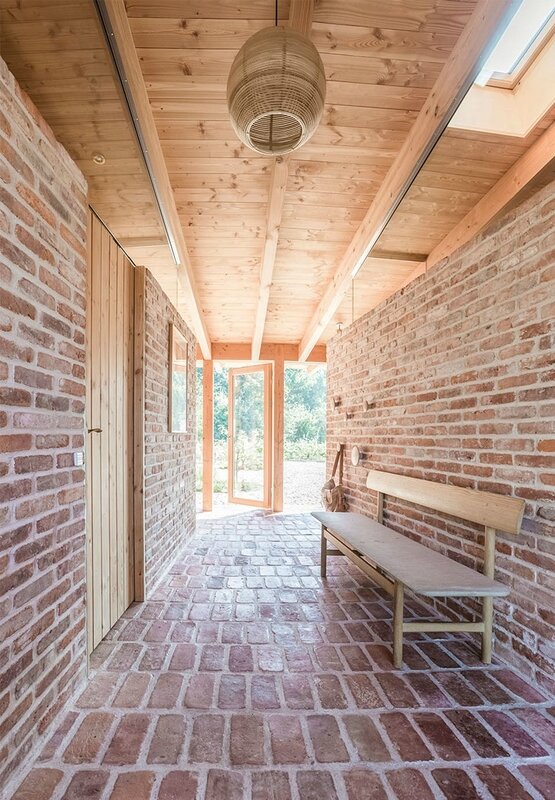 j'aime puisque j'aime la brique mais plus jamais de changement de décor ou alors peindre les briques et là je doute que ce soit cequ'il y ait à faire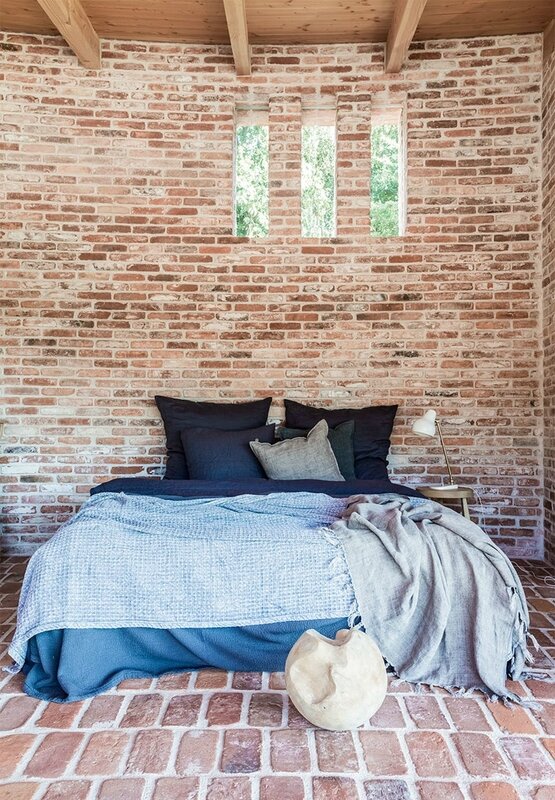 n'est pas trop trop de dormir dans un tel espace ?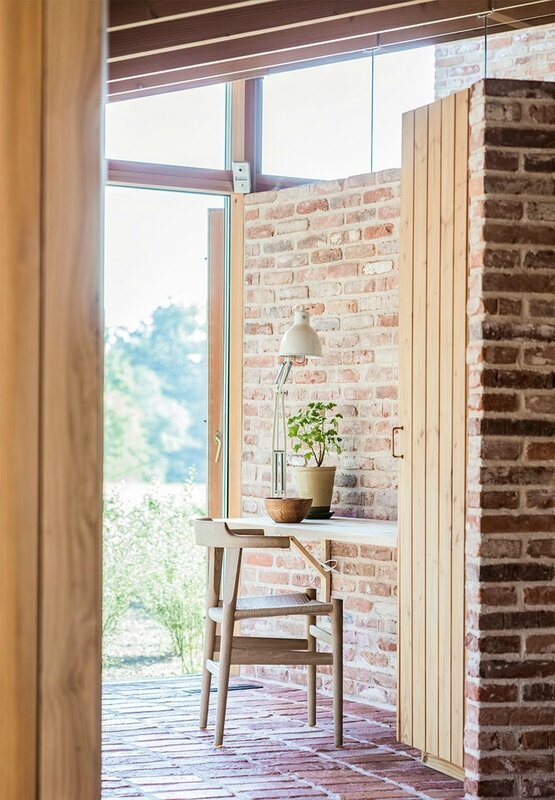 c'est classieux je pense quec'est reposant encore faudrait il entrer réellement pour s'en rendre compte