c'est mon jour aujourd'hui alors j'y vais ! ! ! !
Il fait insupportable
il fait soleil ok
15 minutes plus tard c'est d' une tristesse dingue
puis revient le soleil plein pot
puis la tristesse
wouahhhh de quoi se ruiner le moral et puis est passé cet après midi un film magnifique soit mais alors là qui vous acvhève totalement "ELLE S APPELAIT SARAH " film avec christine scott thomas . . j'en parel sur le blog il me semble
A VOIR BIEN ENTENDU . . . .
Le baron Toots Thielemans
né Jean-Baptiste Frédéric Isidore Thielemans
est un HARMONISTE et GUITARISTE de JAZZ BELGE né à BRUXELLES le 29 AVRIL 1922 (l'année de mon père)
mais qui ne connaît pas TOOTS ?
vous - vous intéressez au jazz
alors vous savez qui il est
mais savez vous qu'il est belge ?
ben non !

pfffffffffffffffffffffffffff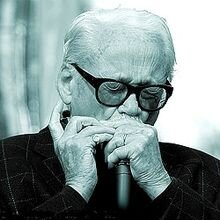 Son CV ?
FACILE . . . vous allez comprendre qui il est
En 1947
il effectue un premier voyage en touriste aux USA
Il rêve d ' y faire carrière
il y rencontre LENNIE TROISTANO ET HANK JONES
Sa première percée internationale a lieu en 1950 : année où il rejoint BENNY GOODMAN pour une tournée à LONDRES
LOrs d'une représentation, il est contraint de jouer de la guitare à cause d'une action syndicale.
En 1951 il fait une tournée en BELGIQUE avec le chanteur et guitariste Bobbejaan Schoepen
En 1952 il émigre aux USA / ses premiers engagements seront comme membre du groupe All-Stars de CHARLIE PARKER ET du GEORGE SHEARING Quintet, à la guitare, entre autres
On le retrouve sur scène lors des tournées mondiales de ROY ELRIDGE et ZOOTS SIMS . . . . ( EXCUSEZ -MOI DU PEU JE NE M'ADRESSE QU'AUX MUSICOLOGUES ET MÉLOMANES)
il en profite pour faire quelques dates en solo.
Roy Elridge lui offre ses premières expériences avec LENA HORNE et CHICO HAMILTON .
En novembre 1951, Toots émigre vers les États-Unis.
En attendant sa carte syndicale, il travaille six mois pour la SABENA à New York.
Il compose Bluesette en fin 1962 , composition qui deviendra un standard et lui vaudra une renommée internationale.
https://www.youtube.com/watch?v=yKnG_9q4crA
JE PENSE QUE TOUT LE MONDE CONNAIT N'EST CE PAS ?
Il développe un nouveau son en sifflant et jouant de la guitare en même temps.
Il est soliste à l'harmonica pour des musiques de film : Midnight Cowboy, The Getaway, Sugarland Express, Cinderella Liberty, Turks Fruit, Jean de Florette entre autres, et a également joué pour l'émission de télévision 1, rue Sésame.
Joueur de jazz, il devient la référence incontestable de l'harmonica, il a interprété des œuvres de
Henry Mancini, du
Tin Pan Alley (époque Al Jolson-Buddy DeSylva),
Alain Soler, entre autres.
mdr ! ! ! !
et oui c'est ça les petits belges ! ! ! !
Le roi Albert II lui a conféré le titre nobiliaire de baron.
Il fut nommé pour le titre Belg der Belgen (« le plus grand Belge ») en 2005 et finira vingtième dans la version flamande et quarante-quatrième dans la version francophone.
Ses chansons les plus connues sont Scotch on the rocks (1955) et Bluesette (1962).
https://www.youtube.com/watch?v=8UpQSKsxhCc . . . 2011 89 ans
https://www.youtube.com/watch?v=Bx5lWt3xhbk 2012 il a 90 ans