de très jolies séries policières ou non d'ailleurs . . .
DES anglaiseS . . .
DES australienneS . . .
DES canadienneS . . .
DES neo-zélandaiseS
Toutes arrivent en force et S'OPPOSENT AUX SEMPITERNELS " EXPERTS " d'un peu partout aux USA . . . ras le bol de leurs images abominablement sanguinolentes , de leurs sujets tous plus abjectes , dégoûtants et impensables les uns que les autres : filmés en plans de plus en plus gros . . . que cela en devient risibles ! ! !
je dis STOP
je dis passons à autre chose
j'ai eu . . . :
Downton Abbey crée en 2010
Broadchurch crée en 2013
Grantchester crée en 2014
et voici
Brokenwood crée en 2014
BROKENWOOD
France 3 dégote pas mal de petites séries agréables à regarder ! ! !
Celle - ci vient de NOUVELLE- ZELANDE
Et, si la Grande-Bretagne ou l'Australie sont depuis longtemps rompues à l'art de la série télévisée, la Nou­velle-Zélande, l'est en revanche beaucoup moins. Hormis la très sombre et très cinématographique Top of the Lake, créée et tournée par la cinéaste Jane Campion (Palme d'or à Cannes en 1993), leur catalogue est quasi inexistant. D'où l'intérêt de France 3 pour Brokenwood.
les 2 premiers épisodes que j'ai regardés ne sont pas trop mal tout à fait différents de GRANTCHESTER et c'est bien : on varie les plaisirs
Brokenwood, est une petite ville tranquille au milieu de paysages vallonnés, luxuriants, plantés de vignes dont le nectar n'a rien à envier aux vins français.
C'est aussi une ambiance relax.
Et des gens qui se connaissent, se jalousent ou se détestent.
C'est enfin le commissaire Mike Shepherd (Neill Rea), un flic bourru, mal rasé, marié quatre fois, amateur de vieilles autos et de musique country enregistrée sur cassette arrivé d'Australie qui va venir s'intaller là dans cette petite ville .
Il maîtrise finement l'art du second degré. Il a également pour habitude de parler aux morts . . . (ben ça alors je ne l'ai pas remarqué dans les 2 premiers épisodes )
l'image est belle
on voit d'autres décors extérieurs évidemment mais d'autres intérieurs aussi c'est ce qui me plaît après l'intrigue
je vous conseille de regarder - pas de sang pas de saloperie pas de gros mot pas de nudité inutile - tout ce qui me convient j'ai comme l'impression qu'à part les USA on revient à des images moins trach moins HARD et
quel bonheur ! ! !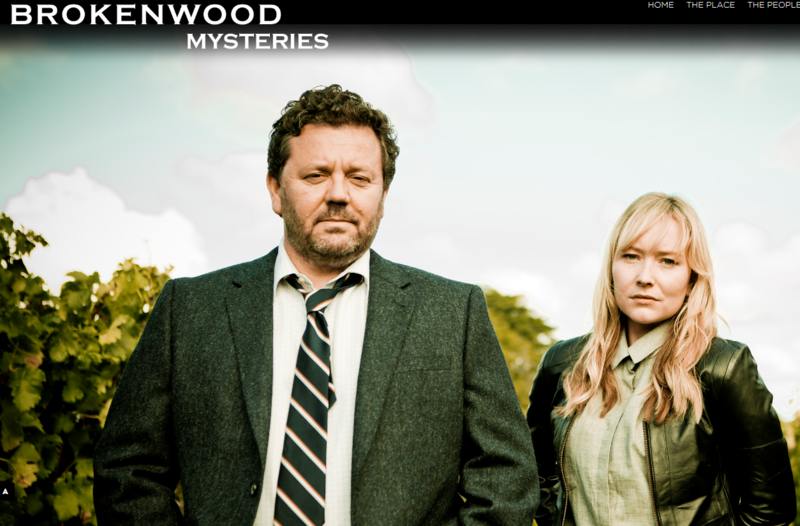 mais je préfère GRANTCHESTER parce que ce sont les années 50 et que j'aime les "costumes " . . .
ah oui je déteste LMERDOCH