j'ai pu me distraire ce soir en regardant la télé . Les infos d'abord mais je n'ai retenu que ceci
RHOLALA mais qu'est ce que ça ma stresse ces infos là ! Moi qui ai la hantise des tempêtes et du déchainement de la nature contre laquelle on ne peut stricteme,nt rien . . . Si ce n'était que la neige même 1 metre . . . ça peut être magnifique 2 jours mais c'est la tempete qu'ils annoncent comme jamais qui est dangereuse . . .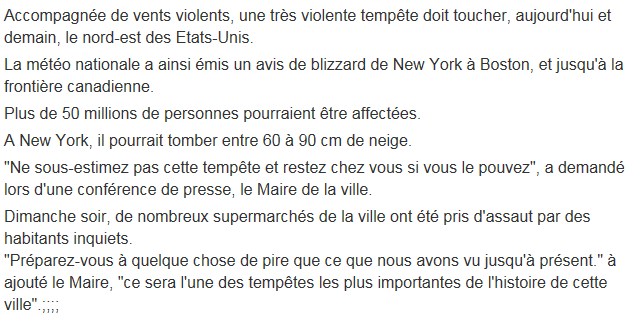 ----------------------------------------------
à voir
Avez -vous vu BROARDCHURCH la fameuse mini série POLICIèRE anglaise ? . . . de l'année 2013 il me semble : le temps passe si vite
Vous avez aimé ? Et bien je vous assure que vous aimerez aussi celle que j'ai regardée sur FR2 ce soir . . . les 2 premiers épisodes sur 6 . . . Si vous avez l'occasion de la regarder en replay alors faites le . . . Il n'y a que le son qui m'a dérangé TRES MAUVAIS ! (je parle des bruits et bruitages ! ce sont des UNIVERS SEMBLABLES quoique d'ambiances tout à fait différentes - je préfère l'ambiance anglaise qui est plus GLAUQUE dans le milei social -
il s'agit de Secrets and Lies
wouahhhh l'acteur !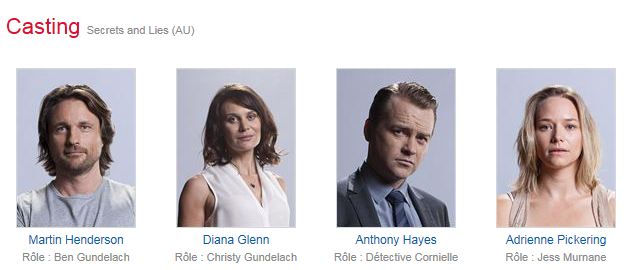 c'est une série AUSTRALIENNE ça change un peu . . . une occasion de découvrir de nouveaux décors et un nouvel univers, mais également de se rappeler que les Américains ne sont pas les seuls capables de créer de jolies surprises. Au contraire, l'Australie n'a pas à rougir côté productions, que ce soit avec The Slap, Please like me ou encore Miss Fisher enquête
c'est un thriller psychologique. France 2 crée la surprise avec ce programme inhabituel pour la chaine .
Cette mini-série australienne, écrite en même temps que Broadchurch, fonctionne sur un postulat similaire : Des " héros" brisés faisant face aux détails de la vie plus destructeurs qu'ils n'y paraissent, une réalisation posée mais envoûtante, une richesse des décors , une tension palpable lourde pesante et des acteurs remarquables, ET BEAU pour l'acteur principal !
NOus avons aussi le meurtre d'un enfant. Sauf qu'ici, toute l'enquête est subtilement vue par les yeux de Ben Gundelach ,un père de famille accusé du meurtre d'un petit garçon pendant son jogging matinal en foret dont il a lui-même découvert le corps, obligé de mener sa propre enquête afin de se disculper. il devient instantanément le suspect numéro un pour la police, les voisins et les médias hystériques. La vie de Ben va devenir un cauchemar et sa famille, déjà fragilisée par un prochain divorce, vole en éclats. Ben va donc tenter de prouver son innocence… L'est-il autant qu'il le proclame ? Son indifférence fait froid dans le dos et chaque épisode va apporter son lot de révélations, tissant une toile bien plus ambiguë qu'on ne pourrait le croire.
brrrrrr . . . j'ai bien mon idée de qui est l'assassin . . . j'ai hate de voir la suite et vous le conseille vivement . .
---------------------
Mais Fr3 nous fait des surprises aussi . . . EN NOUS OFFRANT en m'offrant une série policière ANGLAISE que je n'ai jamais vue et dont je n'ai jamais entendue parler
les enquêtes de VERA

LES ENQUÊTES DE VERA ou l'histoire d'une inspectrice anglaise au caractère bien trempé, qui résout les meurtres les plus sanglants. Tourné au cœur de Northumberland, où les plus beaux paysages britanniques ont été préservés, le polar est déjà un succès dans son pays d'origine, où une 5ème saison est attendue pour 2015.
Aux côtés de celui qu'elle considère comme son fils adoptif, Joe, Véra apprend l'assassinat d'un adolescent retrouvé sans vie dans sa baignoire, parsemée de fleurs. Lorsque le duo débute les recherches, un autre cadavre est découvert dans des circonstances similaires. Ils se lancent donc sur les traces d'un dangereux tueur en série. Retrouvez BRENDA BLETHYN dans un de ses rôles les plus emblématiques. "Des vérités cachées", inédit en France, est diffusé sur France 3 ce dimanche 11 janvier à 20h45. Il sera suivi à 22h20 d'un 2ème épisode intitulé "Morts sur la lande".
-------------------------------------------------
J'aime aussi TROP
L' INSPECTEUR LEWIS
je déteste l'humour anglais mais celui des 2 policiers est EXCELLENT . . . leur jeu d'acteur est terrible : J U S T E

______________________________
mais fr 3 nous a proposé aussi une belle série tout aussi policière que j'ai trop aimée aussi et qui ne nous a offert que 5 ou 6 enquêtes
LES ENQUÊTES CODÉES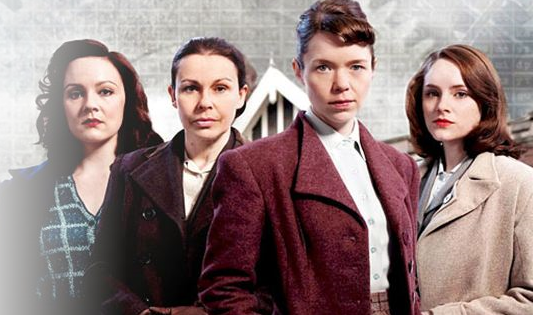 J'aime trop l'ambiance d'après guerre . . .
1952. Susan, Millie, Lucy et Jean ont repris le cours de leur vie, en mettant modestement de côté le rôle primordial qu'elles ont joué dans la victoire des Alliés pendant la guerre. Grâce à leurs précieux renseignements, elles ont permis de mettre fin à ce conflit mondial. Mais alors que Susan découvre un code caché derrière des meurtres non résolus, elle est accueillie avec scepticisme par la police. Elle se rend vite compte qu'elle ne peut résoudre ce crime et amener le coupable à la justice qu'avec ses anciennes amies...
----------------------------------------
et la meilleure des meilleures séries policières est pour moi
SUSPECT N° 1
avec HELLEN MIREN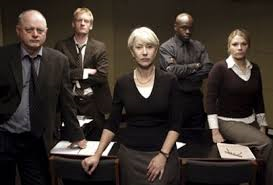 Dans l'univers majoritairement masculin de la police, l'inspecteur Jane Tennison sait se faire respecter. Ultra déterminée, sans concession et peu encline à l'expansivité, elle traque le crime et ne lâche jamais sa proie.
C'est avec ce genre de séries
que je me régale !