09 février 2013
je savais que ce temps splendide ne durerait pas longtemps . Alors vers 11h50 je suis partie faire quelques photos avant que la grisaille ne revienne
De fait là il est 14h30 la neige arrive et il fait plus gris . . .
je suis allée à Latour, exclusivement pour une de mes lectrices qui habite le sud de la France et qui est native d'ici . . .
Nous n'avons pas encore le blizzard de New York ni leur quantité de neige : je ne pense pas que nous en arriverons là . . . rassurons-nous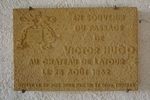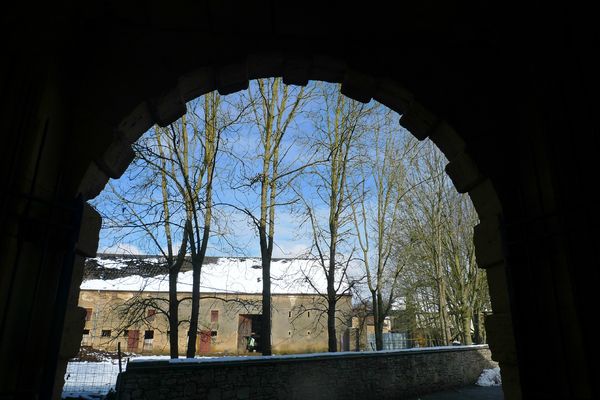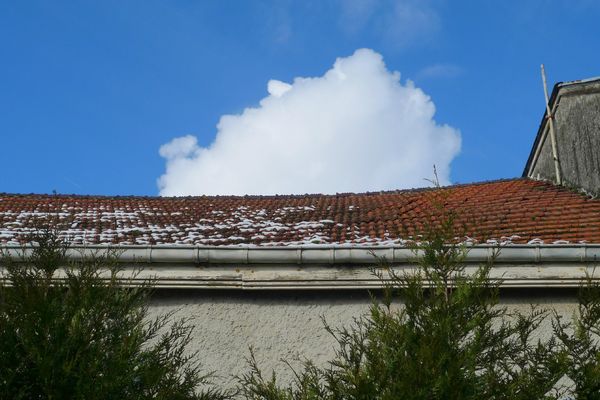 Et ensuite , nous avons eu une journée moyennement ensoleillée
je trouve ces peintures terriblement décoratives . . . je les vois bien dans un loft si elles sont de format imposant . . . elles auraient bien leur place dans un loft .
Les couleurs sont super belles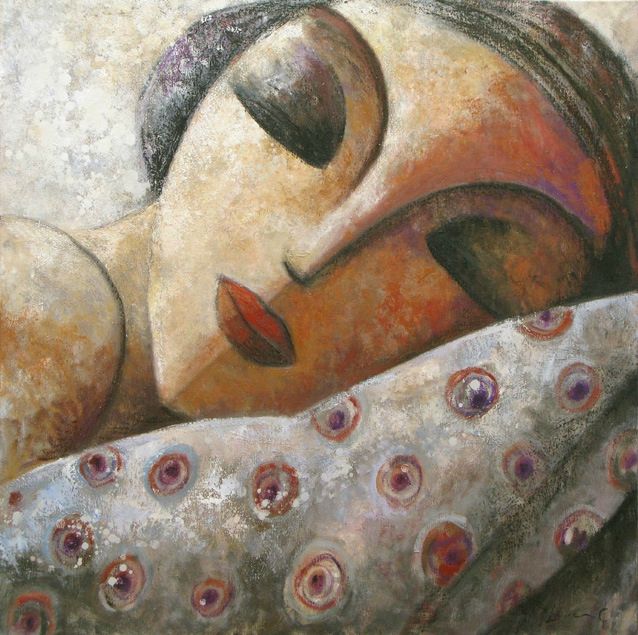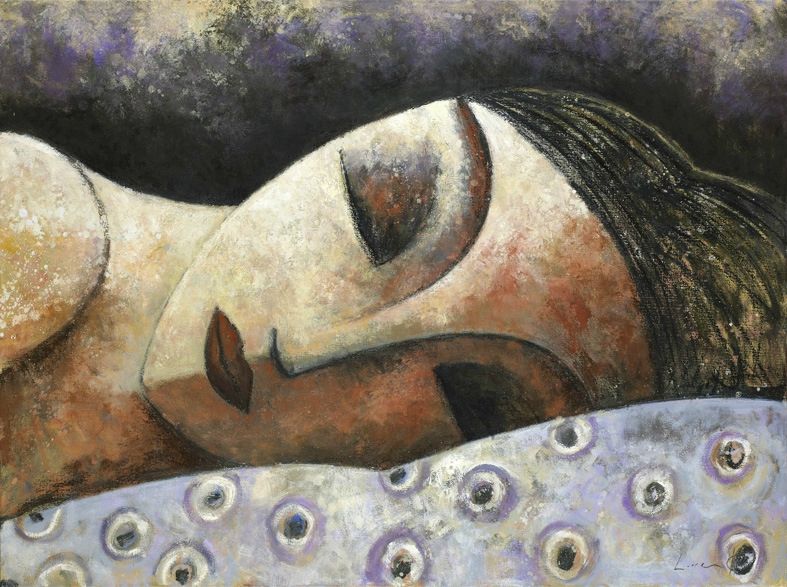 Les recherches sur internet
Il m'arrive de chercher dans un anglais, un suédois un Néerlandais très approximatif (il y a des dicos de traduction pour ça ) et quand je tombe sur une chouette truc c'est vraiment l'effet domino .
Et ça continue de m'épater malgré mes 10 ans de SURFING .....
Vous cherchez un truc , ce truc est inintéressant et ne correspond absolument pas à ce que vous auriez aimer trouver mais vous insistez en cliquant sur certains mots comme HOME . . . HAUSE . . . ARCHITECT . . . INTERIOR . . . DESIGN . . .TV. . . STYLE . . . LIFE . . . TARTAN . . . et puis en tapant le nom de tous les magasines de déco (que je connais et que j'achetais Au luxembourg puisque c'est un carrefour européen et que dans les librairies il y a des étalages complets de magasines de tous pays qui ne vous tentent que la main ) . . . puis vous cliquez sur un mot ou un Nom Propre . . . puis vous cliquez encore et encore . . . et là sans même y avoir pensé une seconde , vous tombez sur THE SUJET !
Je vous ai déjà parlé de mes 5 ou 6 émissions , celles que je regarde sur la BBC1 , la BBC2 , sur des chaînes canadiennes , américaines, flamandes et hollandaises (quand je suis en Flandre) . . . Et bien figurez-vous qu'en cliquant , re cliquant et re re re re cliquant sur le net . . . je tombe par le plus grand des hasards sur des docs remplis de photos de DAVID MIREWETHER des photos de maisons à vendre à louer mais pas que ici nous serons dans des intérieurs de maisons à visiter pour leur originalité ce sont aussi des B&B . . . JAMAIS au gand JAMAIS je ne pensais trouver les photos des maisons que je regarde dans ces émissions de découverte de l'habitat : THE LIFE STYLE tv
J'adore car ce n'est pas de la déco . . . Ce sont des intérieurs on ne peut plus personnels de gens qui se fichent des tendances ,des design, des mélanges , des "qui doit plaire" , des "qu'est ce qu'on va penser" . . . On va voir , on va observer des PHOTOS SPLENDIDES qui mettent l'accent sur des détails . On a parfois une vue générale de la maison et de ses pièces mais plus encore on a des plans à saisir ,à voir ,à penser , à disséquer . . .
Ce sont des prises de vues sensibles et attachantes d'objets qui touchent celui qui l'a posé à tel ou tel endroit mais qui touchent aussi LE PHOTOGRAPHE . Je doute que le propriétaire le suive et lui dise "prends ça puis prends ça" . . . Quand on aime à ce point la déco (moi) on entre volontiers croyez- moi dans le monde de l'autre
On va aller dans la simplicité ,la récup ,le riogolo . . . TOUT CE QUI QUALIFIE justement la DECO chez les ANGLAIS . . . Il y a toujours un truc qui fait rire , des anachronismes surtout (c'est leur truc) . . . Nous aurons pas mal de KITCH c'est aussi ça qui me plaît parce que le mot KITCH chez les anglais n'a pas du tout la même signification que chez nous . . .
Demandez à un Français ou à un Belge lambda de décorer sa pièce avec les mêmes objets ?
TIENS j'aimerais donner une idée d'émission de déco : soit on tourne dans la propre maison des candidats décorateurs en herbe, soit dans des "stands" élaborés à cet effet sous un grand hall à visiter ensuite : mêmes objets . . . mêmes meubles . . . même tout . . . mais attention car ça ça a été fait ailleurs : moi je propose de soumettre toutes ces choses à un candidat espagnol, italien, anglais belge , français, suédois une fois avec des femmes et une fois avec des hommes . . . etc . . . etc . . . etc . . .je ne parle que de ceux qui adorent la déco ce n'est pas une émission d'humour que je propose . . . sans oublier 4 couleurs à chacun et s les mêmes tons

Rhooooo j'aimerais vraiment animer . . . ou alors , tant pis : participer !
je trouve que ce serait très très interessant judicieux et ce serait un apprentissage dingue pour chacun ça pourrait faire pas mal d'entrée dans un hall des expositions . . . Voir comment tout ça se déroule pour chacun d'entre eux (on peut faire visiter pendant qu'ils travaillent ou après que ce soit tout terminé . . . c'est plus intéressant que visiter les éternels lofts et maisons luxueuses que la majorité des gens ne peut s'offrir .
Ici , tout est acceptable, tout est vivable tout est difficile à critiquer . . . C'est ce qui fait la différence entre eux et nous . . . et nous le verrons tout au long de ces jours combien les gens ont du TALENT . . . Je sais que je vais avoir du mal à vous accrocher . . . mais alors ? . . . ce sera tant pis . . . . parce que moi j'ai A D O R E
allez on commence
Chaque maison porte un nom A LA MAISON AVEC STYLE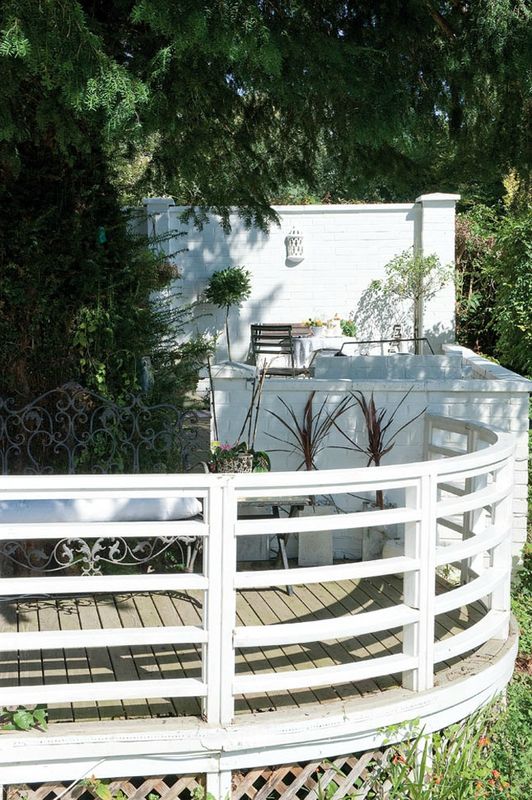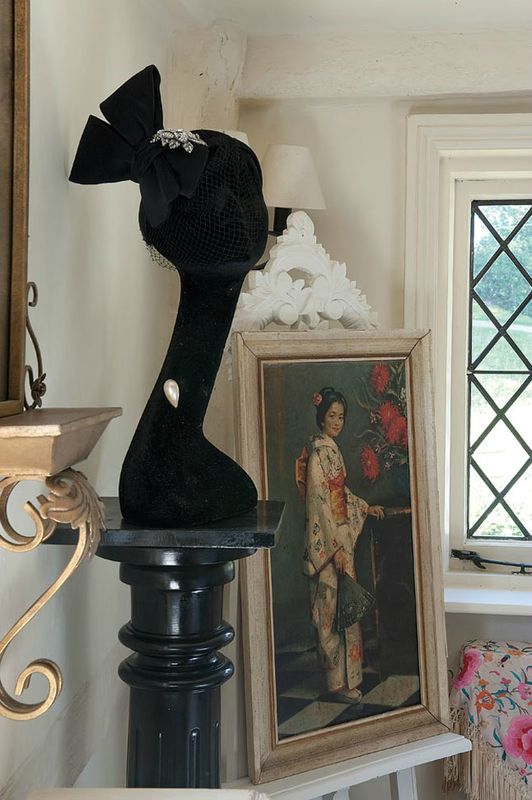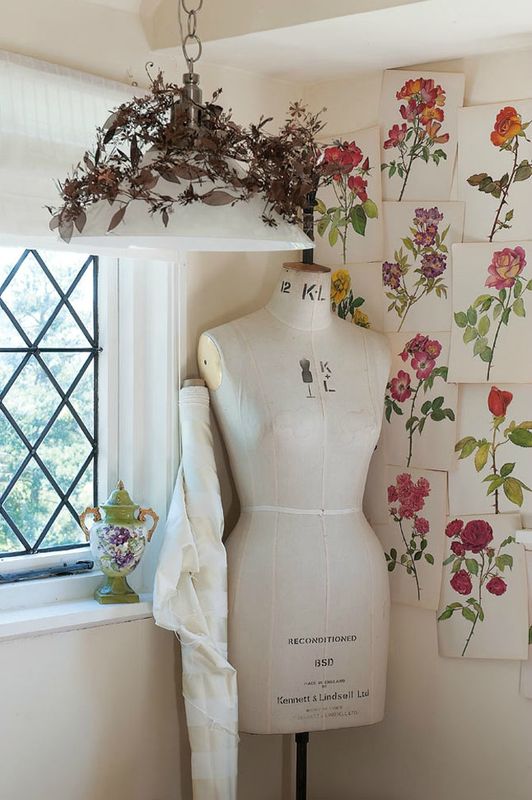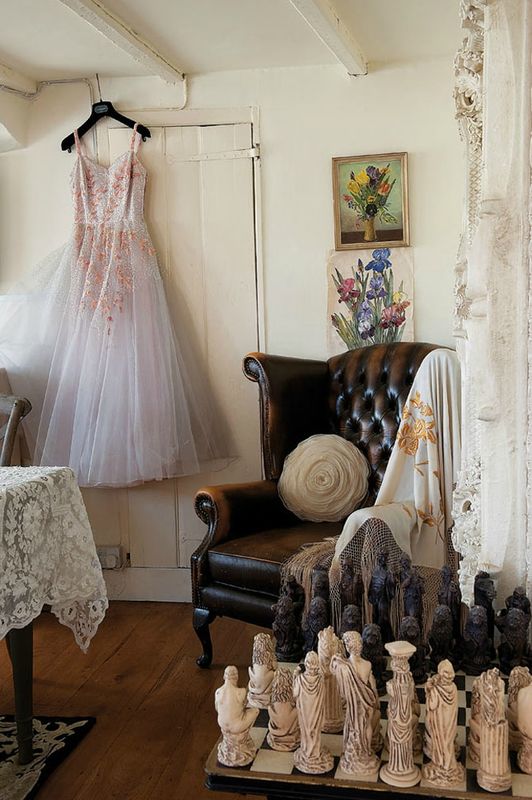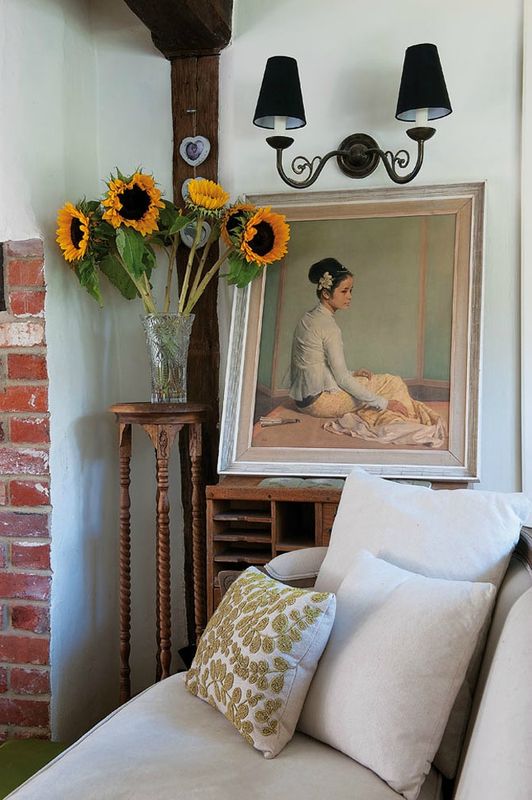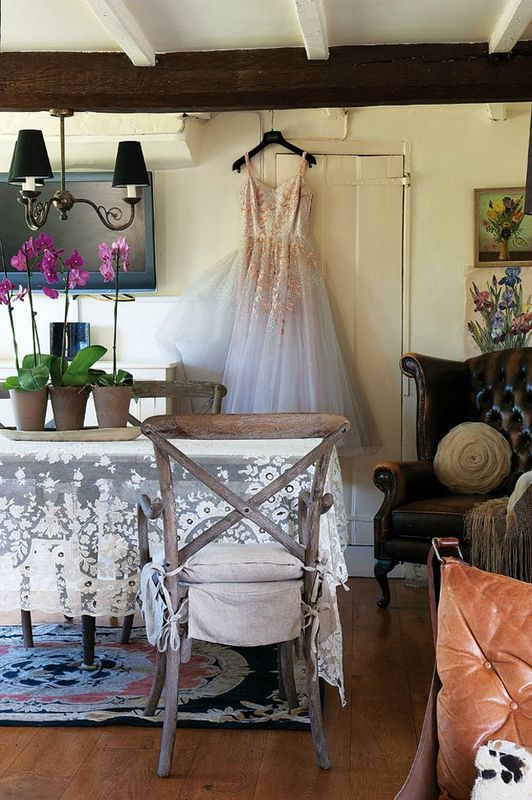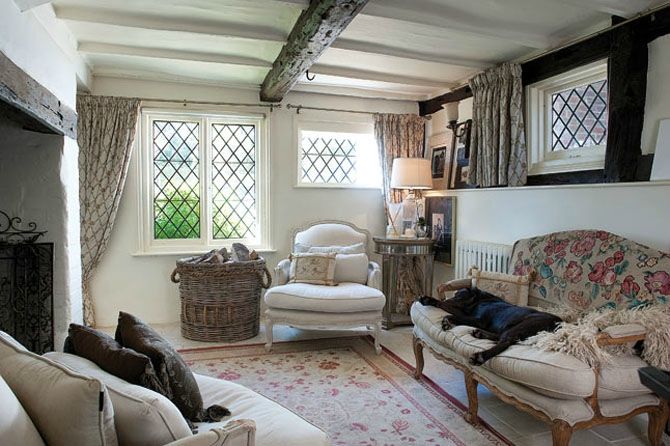 cheminée fauteuils plaids coussins tapis caractérisent la décoAnglaise . . . cette pièce j'aime beaucoup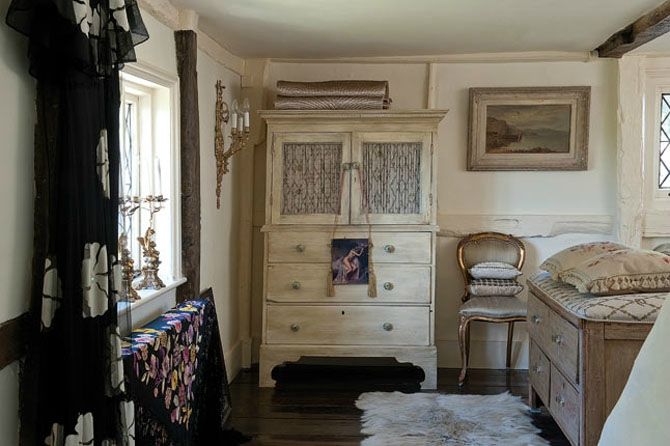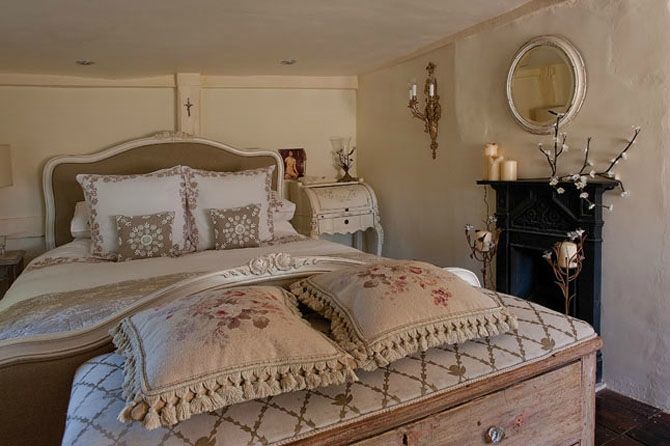 toutes ces fleurs non pour moi je n'aime pas . . . un seul bouquet est suffisant . . . et des fraîches . . . cela dit c'est la spécialité anglaise entre autre . . . je parle des fleurs une maison sans fleurs n'est pas une maison anglaise que ce soit de vraies, sur des toiles sur des stickers . . .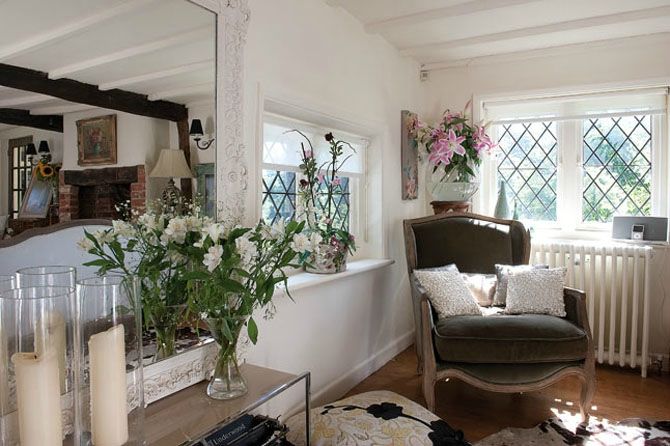 on observera TOUJOURS : PETITS ESPACES = GROS MOBILIER et c'est parfait . . . sinon l'impression serait comme si nous étions dans une maison de poupées et là c'est une horreur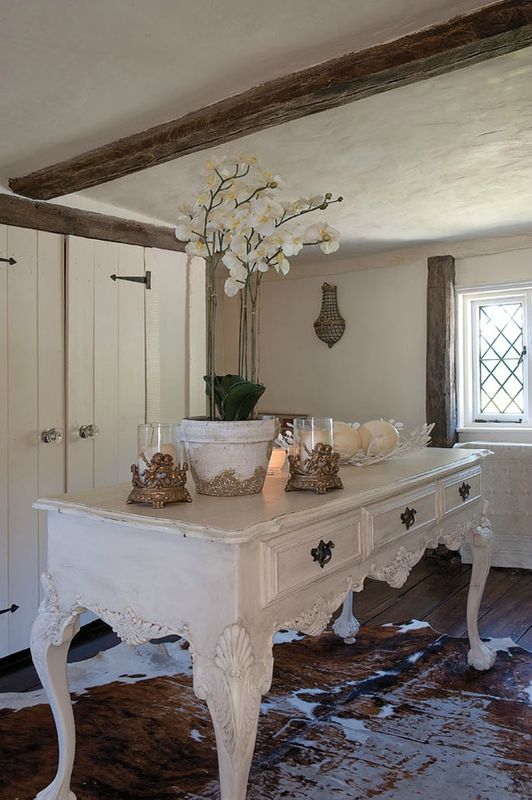 on peut même peindre les plafond sans se fatiguer ou se casser une jambe
Rholalalalala . . . 8h . . . .
une belle lumière . . .
le soleil est là
il fait - 3° . . . il fait sec . . . j'adore . . .